The Navigation Bar can be customized to display links to content both within the TDNet Discover portal and to pages from your facility and across the internet.
Clicking on Navigation Bar from the admin page will resolve a list of the links that are currently listed in your navigation bar.
Existing links on the navigation bar will have icons to their right that will allow you to edit, move and delete respectively.
To add an item to your navigation bar, click Add Item towards the top-right-hand side of the screen:
The newly added item will be added underneath the existing navigation bar items.
Various fields allow for customization of the new item: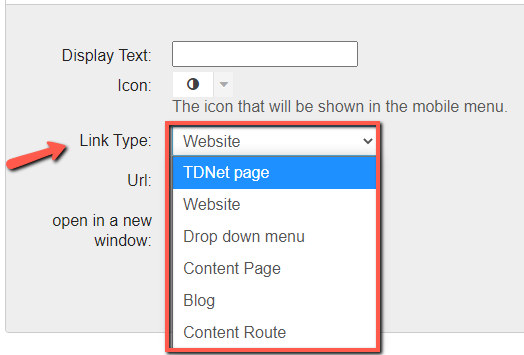 There are various Link Types to choose from:
TDNet Page creates a further dropdown from where pre-created links for your TDNet Discover portal can be selected.
Website allows URLs from across the web to be added.
Drop down menu allows for several URLs to be added in a drop-down menu.
Content Page further creates a drop down auto-populated with any pages that have been created by your facility
Blog creates a further dropdown auto-populated with blog posts that have been created by your facility.
Once created, the new item can be moved so that it sits where desired on the navigation bar.
When you're happy with the changes that have been made, click the Save button before exiting the screen.